One Team. One Solution!
At Natural Dentures, the concept of One Team, One Solution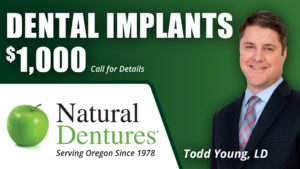 means our dental team, lab, and staff work together to provide you with the solution you are looking for. Starting with a FREE consultation with our dental team, you will discover the benefits of working with one team. We will collaborate to provide you with a treatment plan that not only fits your budget but is the best solution for you based on your individual needs. With the treatment plan in hand, our Patient Education Coordinator will go through various financing options with you and explore ways to fit the cost of dental implants in your budget.
What You Need To Know About Dental Implants
Teeth.
We use them every day.
People see them every day.
Unfortunately, for some teeth can be painful – both emotionally and physically.
If you have been struggling with your smile or suffering from the pain that comes from losing teeth, then you may be an ideal candidate for dental implants.
However, there are some things you need to know before you decide to have your teeth extracted and replaced with dental implants.  As with any permanent medical procedure, it's important consult with our team to see if you are a candidate for dental implants, discuss the risks and set expectations for the results.
Here are some important things you should keep in mind as you make your decision;
What Are Dental Implants?
If you have lost just one or several of your teeth, then you may want to consider dental implants.
A dental implant consists of a titanium post, similar to what is used to replace knees or hips, that is implanted into your jaw replacing the root of a failed tooth.  This implant post forms the base upon which a replacement tooth will be placed.
There is much more that goes into this process, but in the end, they will look like natural teeth.
How Is The Actual Procedure Done And How Long Will It Take?
The process will vary from person to person, and the time required will be determined by a few factors, such as the availability or amount of bone in your jaw.  Please keep in mind that your procedure may take more or less time.
A traditional dental implant will take place in two separate appointments.  The first appointment will call for an incision to be made within your gums to allow for a hole to be drilled into the actual jawbone.  Once the hole is created, the implant can then be placed and the exposed incision will then be closed with stitches.
Depending on the placement of the implant, you can expect the healing time to be any where from two to seven months.  Your dental professional will be able to tell through an X-Ray if you are ready for the second surgery, by seeing if the implant and bone have become fused together.
At this point, another small incision will be made in order to open up the top of the implant.  To ensure that the gums are guided correctly to heal properly, a collar will be put into place on the top of the implant.  This will stay in place for roughly one to two weeks.
Please Note:  There may be some instances where you may not need a collar and can move on to the next step in the process, which is the placement of an abutment (attachment) and temporary crown.
Once the tissue has healed, the collar can then be taken out.  Your dental professional may then fit you with a temporary crown and abutment.  The temporary crown is softer and meant to protect the implant, while letting the jawbone get stronger.
You can expect to have the temporary crown in place for up to six weeks.  The next phase is the final one, where the permanent crown will be placed on the abutment, (this can be done by either screwing on the crown or cementing it into place).
The Most Frequently Asked Questions Regarding Dental Implants:
How Do You Maintain An Implant?
You care and maintain your implanted teeth just as you do the rest of your teeth, which means brushing and flossing on a daily basis and cleanings every six months. It is important follow up with our dental team to check bone around the implant every year.
Dental Implants Or Dentures?
This really is up to the individual.  There are pros and cons for each, so let's take a look at a few:
Dental Implant Pros:
•    Look like your natural teeth
•    Function like your natural teeth
•    Can last a long time
Dental Implant Cons:
•    Process can take a long time
•    Expensive relative to other options
•    Not covered by most dental insurance companies
Denture Pros:
•    Affordable
•    Easily removable
Denture Cons:
•    Need to be removed in order to be cleaned
•    Need to be maintained and replaced over time
Are You A Candidate For Dental Implants?
What Can You Expect To Pay?
The cost of dental implants and out of pocket expenses will vary from individual to individual.  Each mouth is unique and everyone's circumstances are different. While some procedures are very straightforward, there may be other procedures that are necessary and come at an additional cost (you will always be informed ahead of time of any potential costs).
Our unique concept of One Team, One Solution! help us pass along savings to our patients by having our entire staff, medical equipment and lab in one location. This approach makes it easier on our patients and enables us to make the cost of dental implants more affordable.  But, the best way to understand your true costs and make an informed decision is to schedule a free consultation. At this point, we will present you treatment plan specifically designed for you.
What Financing Options Are Available?
We understand that covering the cost of dental implants can be difficult for some people. At your free consultation, our Patient Education Coordinator will go through various financing options with you and explore ways to fit the cost of dental implants in your budget. Some costs may be offset by your dental insurance company (we will do a free benefits check at the time of your visit).  We are honored to help guide you through this life-changing event, so don't let fear keep you from getting the facts.
Schedule your free consultation today.
What We Do And Why You Should Choose Us?
The team at Natural Dentures has been placing dental implants for quite some time.  We won't send you elsewhere to get your procedures done; you can get them all performed under one roof.
Following the initial consultation, our Patient Education Coordinator will explain what your options are and help you decide what we will be the best treatment plan for your dental implants.
We will then do scans of your mouth and jawbone to see what is available.  If there is any removal of unhealthy teeth that needs to be done, then we will do so, as well as map out and plan the exact placement of your implants.
In our onsite lab, we will personally design and create your new teeth and get them ready to be placed permanently on your implants.
If at any time throughout the process you have any questions or concerns, we encourage you to ask so we can answer any and all of your questions.
We will also do our best to find financing options to fit your situation.
We know there are many other dental implant dentists out there you can choose from, but the professionals at Natural Dentures have the expertise, experience and knowledge necessary to perform your dental procedures.
If you think dental implants may be the right solution for you, it's time to take the next step and schedule your free consultation with the Natural Dentures team.
For more information about dental implants, please contact a Natural Dentures office near you. We have offices throughout Oregon in Eugene, Florence, Salem, Corvallis and Roseburg.
One Team. One Solution!