Welcome to the third installment of "Ask The Denturist" Q & A series by Natural Dentures of Oregon. Our 3rd question in the series addresses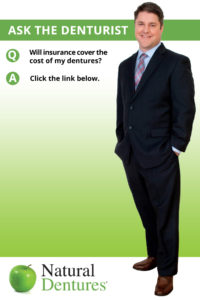 insurance coverage and how much a patient can expect to pay out of pocket for dentures.
Q. Will insurance cover the cost of my dentures?
A. Insurance will generally cover at least 50% of your dentures if you have dental coverage. Medicare and Medicaid do not cover any denture work. Visit us and let us help assess what your insurance covers. We can usually contact your insurer immediately.
For more information about insurance coverage and affording dentures, please contact Natural Dentures to schedule a free consultation at one of our five locations in Oregon; Eugene, Florence, Corvallis, Roseburg or Salem.