Welcome to the second installment of "Ask The Denturist" Q & A series provided by Natural Dentures in Oregon. Our question today comes from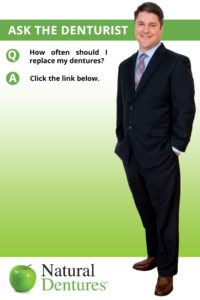 patients who currently have dentures and wonder how long the dentures will fit and function in their mouth.
Q. How often should I replace my dentures?
A. Under normal circumstances, dentures should be replaced every 5-7 years and relines done every other year. See you denturist on a yearly basis for a checkup. This schedule of care will maintain the fit of your dentures and catch any problems before they become serious.
To learn more about maintaining, relining or replacing your dentures, contact Natural Dentures to schedule a free consultation at one of our locations in Eugene, Florence, Corvallis, Roseburg or Salem.