Welcome to the fourth installment of "Ask The Denturist" Q & by Natural Dentures of Oregon. Our 4th question in the series addresses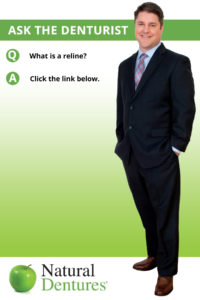 denture relines and keeping your dentures fitting and functioning properly.
Q. What is a denture reline?
A. A reline is putting a new surface inside your denture when your gums have shrunk and there is a space between your denture and the gum surface. Never wear your dentures in this condition as your gums may "Puff" into the ill-fitting denture. Have your dentures relined every other year.
For more information about denture relines and maintaining your dentures, contact Natural Dentures to schedule a free consultation at one of our five Oregon locations.